Audi has shown open versions of the A5 and S5 models online, which will debut in Geneva in March 2009.

The new convertibles will replace the A4 Cabriolet on the market, which has been in production for 7 years without significant changes.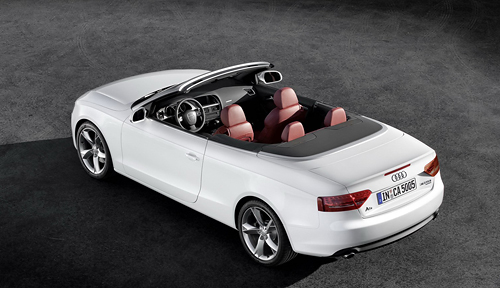 As the model names suggest, the A5 Cabriolet is the basic version. Whereas the S5 Cabriolet is a sporty modification. It is noteworthy that on the new generation of convertibles, as on the previous ones, the roof of the cars will be soft. This is done to preserve space in the passenger compartment and trunk: with the roof folded down, the volume of the luggage compartment is an impressive 320 liters. The soft roof also helps to reduce the weight of the car . The roof of Audi 5 convertibles opens and closes automatically in 15 and 17 seconds, respectively. Direct competitors of the novelty — BMW 3-Series Convertible, Infiniti G37 Convertible and Lexus IS 250C — are equipped with a rigid folding structure.
Almost immediately after the premiere at the Geneva Motor Show, there will be three petrol and two diesel modifications of the A5 Cabriolet on sale. The line of gasoline engines includes two 2-liter units with a capacity of 180 hp. and 211 hp, as well as the top-end 3.2-liter V6, which produces 265 hp. Diesels are represented by 2.7- and 3-liter V6s with 190 hp. and 240 hp.
The S5 Cabriolet will be powered by a 3.0-liter 333-horsepower petrol V6 that debuted on the Audi S4 sports sedan. The motor develops 440 Nm of torque in the range of 2,900-5,300 rpm, which allows it to reach the first hundred in 5.6 seconds. The average fuel consumption is 9.6 l / 100 km.
Both models are available with either a 6-speed manual or a 7-band S-Tronic dual-clutch robotic automatic. On request, the A5 Cabriolet and S5 CAbriolet can be equipped with the proprietary quattro all-wheel drive system.