Honda has circulated the first image of the serial Insight online to whet the public's interest in its January premiere at the Detroit Motor Show.

It is he who should become the most affordable hybrid in the world.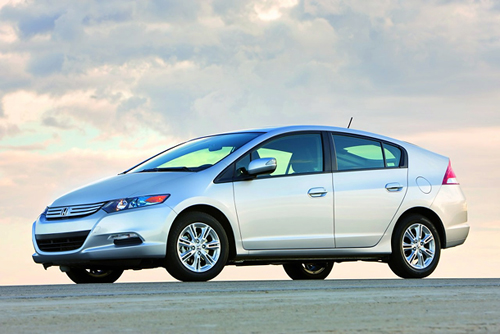 In fact, the new Insight is the second generation of the model. The first generation was extremely unsuccessful. As it turned out during operation, the Insight I, although it had all the currently fashionable technologies, including the braking energy recuperation system, but consumed significantly more fuel than was stated by the manufacturer. In addition, the new product lacked power. As a result, only 18,000 cars were sold in 6 years. «Correction of errors
«- the Insight II concept car — the Japanese presented in October at the last Paris Motor Show.
And now the new hybrid is almost ready for production. It will start in spring 2009. However, the details of the technical equipment of the model are kept in strict confidence. Unnamed sources at Honda said only that the Insight II will be powered by a hybrid powertrain, consisting of a single petrol 1.4-liter engine with a capacity of 100 hp. and one 20-horsepower electrical unit. Only on electricity, which is «stored
»In lithium-ion batteries under the boot floor, the hybrid can only accelerate to 50 km / h. But the exhaust of the new Insight is designed to compare favorably with the exhaust of traditional cars : its harmful CO2 emissions will be around 100 g / km.
There is no more information on Insight II. Therefore, it is difficult to judge whether it will be economical and attractive enough to compete with the most successful hybrid on the planet — the Toyota Prius, whose sales volume has already exceeded 1,000,000 units. And the question of price remains. If Honda estimates its Insight at $ 18,000-19,000 (in Japan and the US), Toyota is unlikely to put the Prius at $ 22,000. …