A few days before Christmas, Volvo Cars will unveil the Volvo S60 Concept to give an idea of ​​what the new Volvo S60 will look like when it hits the market in 2010.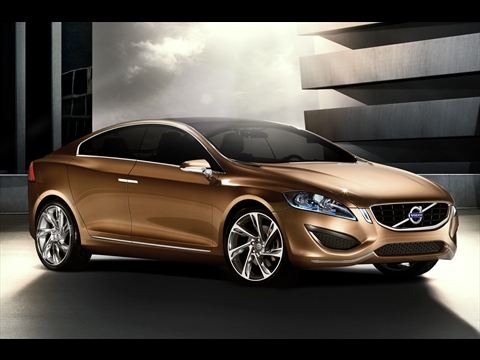 «The new Volvo S60 will be one of the strongest players in this segment of the market, where the competition is fiercely unfolding,» said Stephen Odell, President and CEO of Volvo Cars.
The car has an increased size of the iron sign on the radiator grille in the form of a trapezoid. The letters of the name «Volvo» on the iron symbol are made in 3D and are placed on the illuminated panel. The radiator grille has been redesigned with horizontal baffles.
Lamps, made in the traditional Volvo form, are adjacent to the grille. The shape of the lamps emphasizes the vertical design of the front of the vehicle and the prominent V-shaped contours of the bonnet. From the lamps originate the bumpers, which are also made in a new design.
The corners of the headlights protrude upward into the neat shape of the bonnet .
In each headlight, the glowing lamps are similar to the image of two miniature Viking boats sailing alongside each other — one lamp for the low beam and one lamp for the main beam. When driving in the dark, light reflects off hidden, upward-facing, high-power LED lights, as if drawing the wind-filled sails of boats. A closer look reveals new special design elements.
The cooling units of the compact LED lamp cooling system are made of aluminum. They protrude forward, and they are noticeable under the lamps, as under the skeleton of a ship. The translucent body includes a multilayer ring-shaped structure that is part of the headlights. With the headlights on, the front of the concept car is clearly visible, illuminated by a ring-shaped glow.
The transparent exterior mirrors are fully illuminated and complement the turn signals. The car also has a panoramic roof.
Rear doors, made in the form of parallelograms, to open the door, you need to press a button, and the door begins to open in the traditional way. But then the front of the door moves forward and the door moves back parallel to the body until it stops at the level of the rear wheel.
Since the vehicle does not have a B-pillar, this door configuration opens up a huge opening, making it easier to access the vehicle interior.
For this model, special seven-spoke 20-inch rims have been developed with special low-profile tires.
New technology detects pedestrians in close proximity The Volvo S60 Concept offers an advanced safety system that, among other things, can detect a pedestrian moving in front of the vehicle. If the driver does not react to a dangerous situation, the car automatically brakes to a complete stop. The new safety system will be installed on the new Volvo S60.